The typical progression of a submission through the IRB application process begins when the Investigator submits an Initial Application in the WRG-HS system.  That then sets off a number of processes that must be complete before IRB analyst review.
For an overview of the IRB review process at WCM, please review the recording of our recent presentation, IRB101: Introduction to the WCM IRB, available on our Human Research Compliance Monthly Education and Training Series (METS) page.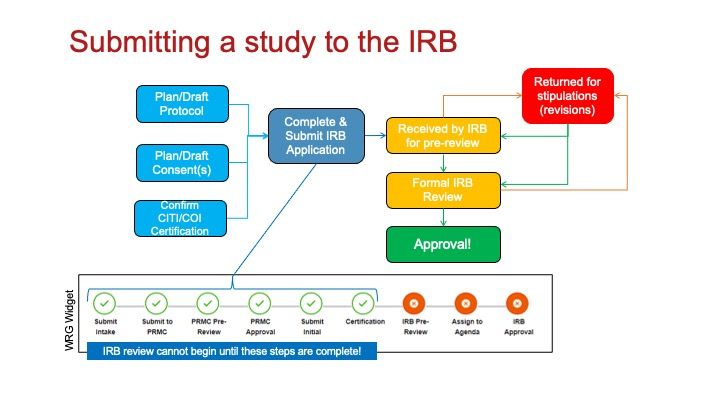 Step 1: Any investigator conducting human subjects research must apply for IRB approval.  The first step in this process is to complete an Intake Form in WRG-HS. 
Step 2: Once the intake form is completed, an application to the PRMC (or equivalent) must be submitted.
Step 3: Once PRMC (or equivalent) approval has been obtained, complete an initial submission in WRG-HS.  Once your initial submission is submitted, several steps occur:
PRMC (or equivalent) approval will be verified in SASP.
The protocol is checked for gross inaccuracies, incomplete items, or other major issues.
The protocol is assigned to an IRB analyst for pre-review within two business days of receipt.
Step 4: Pre-review
An IRB analyst audits the application to ensure all regulatory requirements have been met.
If all regulatory requirements have not been met, the PI will receive a notice of stipulation through WRG-HS, which must be addressed and submitted.
Note: A delay in responding to the analyst's request results in an overall delay in turnaround time!
If/Once all regulatory requirements have been met, the analyst determines whether the protocol is  "greater than minimal risk" or "minimal risk" and the submission is assigned to a member of the appropriate WCM IRB for formal IRB review.
Step 5: The complete application is assigned to an IRB agenda for review.  
Step 6: The IRB member(s) review the entire application and discuss any item of concern during a convened IRB meeting., or if expedited, issues a request for modification(s) letter. 
The IRB may, at this time, defer their decision and ask the PI for more information or to address concerns raised by the IRB membership.
The IRB may, at this time, conclude that the submission can be approved and will take a vote.
Step 7: The IRB Determination Letter is released and entered into the WRG-HS system.